Exploring the World of Graffiti and Street Art
Imagine a city where artistic expression knows no bounds, a place where the canvas of walls is open to everyone, encouraging the creation of vibrant and diverse visual narratives.
With its rich cultural tapestry, India has a plethora of interesting sites where colourful murals and graffiti cover cityscapes. Join us as we go through India's top ten wall art destinations, revealing the awe-inspiring land of urban expression. 
Even though Graffiti art and other kind of wall arts are commonly linked with unlawful tagging or vandalism. There are a few exceptions in India that allow for freedom of expression for those that are looking to create vibrant and diverse visual narratives.Graffiti, often known as wall art, is the act of expressing oneself on public surfaces through cool patterns and paintings
DELHI'S LODHI COLONY
Lodhi Colony, located in the centre of India's capital, is a blank canvas for renowned painters to turn its walls into magnificent art, fusing social commentary with mesmerising beauty.
MUMBAI'S BANDRA DISTRICT
Bandra, the artistic hub of Mumbai, breathes life into its streets with mesmerizing art that effortlessly blends urban culture, Bollywood influences, etc.
ARPORA, GOA
Goa's vibrant graffiti scene comes alive in Arpora, where colorful murals adorn the walls, reflecting the laid-back beach vibes and the state's unique blend of Indian and Portuguese cultures.
SHILLONG, MEGHALAYA
The thriving wall painting scene in Shillong's scenic hills reflects the rich heritage of the indigenous Khasi community, merging traditional patterns with modern artistic techniques.
DELHI'S HAUZ KHAS VILLAGE
A bohemian district in Delhi welcomes visitors with vibrant  art that displays a blend of styles, and ethnic symbols.
WEST BENGAL'S CAPITAL CITY KOLKATA.
Kolkata, India's cultural capital, embraces graffiti as an intrinsic element of its urban landscape. The city's walls communicate volumes, from iconic personalities to political commentary.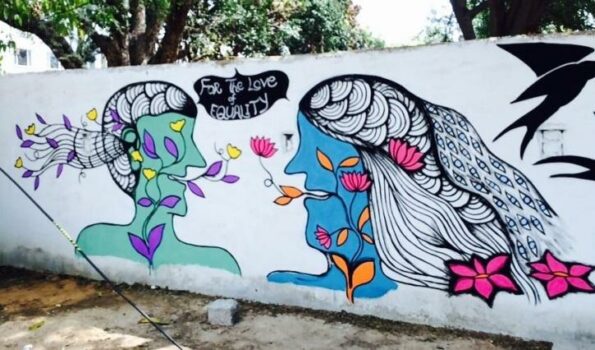 BANGALORE, KARNATAKA
The wall art movement in Bangalore embodies the essence of the city's global vibe, with artists fusing traditional motifs with modern inspirations, representing the city's dynamic character.
TAMIL NADU, CHENNAI
Chennai's walls come alive with artistic expression, with murals commemorating the city's rich cultural heritage, temples, music, dance, and the legendary film industry.
KOCHI, KERALA
Kochi Art Lane in Mattancherry, Kerala, is a vibrant open-air gallery that features bright and ever-changing murals, attracting artists, and tourists, and encouraging community interaction.
FRENCH COLONY, PONDICHERRY
The French Colony in Pondicherry, India, has a fascinating art lane adorning its streets, fusing Indian and French elements and bringing a dynamic touch to this culturally rich neighbourhood.
From the bustling streets of Delhi to the vibrant beaches of Goa and the cultural hub of Kolkata, India boasts a captivating array of graffiti and wall art hotspots.